Discussion Starter
·
#1
·
Yesterday I got the chance to drive the Angeles Crest Highway. It was a beautiful day, clear and unseasonably cool in Los Angeles (you know, low to mid 60s
).
When entering the Angeles Forest you are greeted with this sign: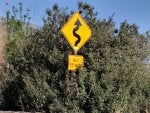 If anybody asks my sign... This! This is my sign.
That sign is accurate. The drive is full of twists and turns and there were plenty of opportunities to let my baby stretch her legs.
I didn't see many Porsches on the road, which surprised me. I didn't see a single Cayman or Boxster of any generation, but I did see two or three 911s, including a 993 Turbo that blew past me in a no-passing zone. And I think that I saw a large percentage of the MkVI and MkVII VW GTis sold in the last 10 years. I lost count somewhere between 15 and 20. I also saw a lot of S2000s (5 or 6), including one with a wing that was laughably big. Then there was the convoy of four Audi R8s (which do make a glorious sound) followed by two Aston Martin DB11s and a Lotus Exige. And, of course, there were the sport bikes, seemingly by the hundreds. Those riders are insane!
I was having so much fun driving and car spotting that I didn't want to stop to take pictures of my car, but I did take a few.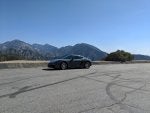 Actually, that last picture was from the prior weekend's canyon hunt. That's how few pictures I wound up taking.
If you haven't driven the Angeles Crest Highway, and you are anywhere remotely nearby, I would recommend doing so as it was great driving and great car spotting.