Discussion Starter
·
#1
·
Hey everyone,
I took in my 718 Cayman in to have CarPlay retrofitted, upon receiving my car I noticed the interior panel gaps where the Center console molding meets the dashboard seam does not look well put together. I escalated this issue with my dealer (non US based). The service manager apologized and assured me they'd make it right.
I was sitting there for 90 minutes, the techs tried to show me "That's how it fits", I told them to come with me to have a look at the showroom models, none of them have a gap that wide! They gave me a loaner Passat ? because they couldn't figure out how to fix it at the same time.
I'm worried they are gonna try to convince me that's how it is, I'm very OCD about rattles and fitment issues. I took pictures of showroom models and have been looking up members interior photos none look bad as mine. There is a plastic piece which shows normally, but mine has space beneath it which makes it look disassembled.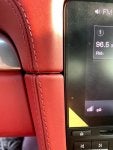 What do all of you think? compared to your cars? (Photos would be a plus!)
These are reference cars, one in the showroom and one from a video for comparisons sake:
Thanks!