2022 BGTS 4.0 MT, Carmine Red
Hi all,
Porsche has recently rolled out their new dash cam and on MY2022+ are offering Preparation for Porsche Dashcam at $130 (at least for the Boxster) and there is very little out there on reviews or troubleshooting, so I am making this post to cover a bit of both.
The dash cam itself can be purchased through Porsche Tequipment Accessories at $529 +tax, or from Suncoat at $475.
Porsche Tequipment:
https://content.us.porsche.com/prod/pag/tequipment/TeqFinder.nsf/TeqFinder?ReadForm&ma=PCNA (LL)&co=100&sp=12&ba=718&bt=982&mo=718 Boxster&ka=&ac=product&pr=BB4EC088E44234D7C12586460068E215
Suncoast Parts:
Porsche Front Dash Camera
I own a 2022 Boxster GTS 4.0 L, which I took delivery on before the Prep for Dashcam was available in the configurator. As a concession for a not-so-great experience with my dealership I negotiated getting the dash cam installed gratis, so I cannot speak to all pricing with much certainty. What I do hope to provide to you here are some tips to help you from the same headaches I suffered up front for this.
In terms of labor for install, I'll have to check and circle back. As I mentioned, this service was done at no cost to me so I am uncertain how many hours the Service Dept. reported needing for it.
Introduction: First impressions
After all the fuss of getting the cam set up on my mobile app, I like it. I appreciate that it's an OE product and does not void my warranty. I think it is a good safety blanket for providing video evidence to insurance companies/ attorneys in the event of an accident. The video quality is excellent, the audio quality is good. Overall, I'm happy with it but I am sure it is not the best out there in terms of form or function. Not to mention, this is front camera only; Porsche does not offer a dash cam with front and rear cameras.
Topic 1: Location of installation
Unless you specifically request a right-side install on your windshield, the dealership will install this on the left side per Porsche recommendations. When I picked the car up after install, I was not expecting this and was surprised to see it on the driver's side. I immediately thought this was bad placement is it was obstructive to my view. As a 6'3" person, this was most obstructive when banking right but also with viewing many traffic lights.
In order to have it installed on the right side of the windshield, you will need to order the Relocation Kit. The Service Dept. also drilled a hole in the cosmetic mirror assembly cover to allow the wiring to come out on the left side, so they needed to replace this too when they relocated it for me. The dealership ordered this kit so I do not know the price nor do I have the part number. The labor (waived in my case) for relocation was $199.
I will say that the camera view perfectly captured both front corners of the car on video but once relocated to the right side, the left front corner of the car is out of view on video.
Pro Tip:
If you are having this installed on the right side of the windshield, make sure to have the Service Dept. call you in before they mount it so that you can get the dash cam working on your mobile app so that they can properly mount the camera while referring to the video on your mobile app. Otherwise it will be too easy to mount it with a suboptimal camera angle as I am currently dealing with. See the screenshots below. First two photos are of the cam on the left side, last three photos are the cam on the right side.
Mounted on the right side of the windshield, it is of course not obstructive to my view any longer. It also has not been bothersome to passengers either. I do plan to have it relocated yet again, just to achieve a better camera view. I think that will involve nudging it just more closely to the stem of the rearview mirror as it's currently about an inch away from it.
With regard to where to mount an EZ Pass with this cam on the right side, I plan to be mounting mine immediately beneath the stem of the rearview mirror.
Left side mount: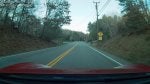 Right side mount: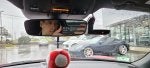 Topic 2: Accessing dash cam via the app
The first problem I think came up from my dealership never having activated Porsche Connect for me. Something they were supposed to have done prior to my taking delivery on it. Throw that complaint in the bag full of others from them. After a couple weeks and three visits to their Service Dept to accomplish this, I then spent nearly 4 hours on the phone with Porsche Cars North America with a service technician trying to figure out why I could not gain access via the Porsche dashcam app. I even signed up for AT&T service to activate the car's own WiFi (3-month free trial, then $20/mo), thinking this may be the rate limiting variable in getting this to work.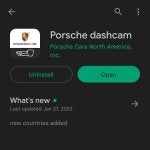 The problem was that there was a set password that came with the dash cam that was not working. I would try connecting and it would just keep saying "Incorrect Password." It was actually quite tricky to troubleshoot this issue, and even the PCNA tech had to refer to a Taycan forum as there is little guidance on this in official documents. Here is my brief write up to clear this issue:
Before beginning: Disconnect your mobile from your homes's WiFi network if it is connected as this will interfere with the process. Connect to the car's WiFi network if available.
Step 1: Press and hold the power button on the dash cam for >20 seconds for a hard restart. Make sure dash cam is turned on after this before proceeding to step 2
Step 2: Open the Porsche Dash Cam app on your mobile device
Step 3: Click the WiFi logo at the top right in the app, select Continue Without WiFi
Step 4: Click Settings in the app, select "Connect phone to dashcam"
Step 5: Delete the last letter of the password and re-enter it, screenshot the screen, select "Apply". Don't try changing the whole password yet as you will not have the time; for some reason, this screen disappears quickly and spontaneously, and is a PITA to get back to. So be quick about changing and saving the password, then quickly take a screenshot. [Clearly this is poor software functionality, which I hope Porsche soon takes notice of.]
Topic 3: Functionality
I think it works well but not great. If I am connected to the Porsche Dashcam WiFi, I cannot receive calls/texts/emails, etc., which may not be a bad thing as those are just driving distractions but it is a nuisance. You don't have to connect to the dash cam just to get it to work. It will record events irrespective of your connectivity to it. You do need to be in your car, key in the On position, and connected to the Porsche Dashcam WiFi in order to review and download any videos, which is another nuisance. I would very much like to be able to access and download videos from the app at any time from anywhere.
The video quality I think is as good as I'd hoped for. I have not owned other dash cams in the past but friends who do have been impressed with this cam's quality (FWIW).
The audio is pretty good. I can hear my car's music and any cockpit conversation clearly.. engine sounds are a bit distorted but not terribly.
There is a "Shocks while driving" feature, where the cam will beep three times in rapid succession when it detects a shock.. this happened all too often at first with bump in the road but fortunately you can adjust the sensitivity of it in the mobile app. I'm not sure what function this feature offers as the cam is recording at all times while driving. I believe while you are not driving, a detected shock will initiate recording.
Conclusion: Worth it?
I like it, and will be keeping it. If I hadn't gotten it for free and there wasn't a concern with voiding warranty, I would certainly look into aftermarket kits for better function and a more sleek form. And definitely a rearview cam as well.
Here's a link to a quick video for your viewing pleasure --
New video by Shawn Anderson